The 123rd Canton Fair will kick off. As the longest and largest in China, the largest number of buyers, the most widely distributed in the country, and the best in international trade, the Canton Fair brings together the best manufacturers in China and continues to provide Chinese creation to the global market. China's "intelligent" quality products. It is understood that the first phase of the Canton Fair (the exhibition time is April 15-19, 2018) will gather more than 50 abrasive abrasives and super-hard materials enterprises. The grinding enterprises will carry resin cutting sheets and abrasive cloth sandpaper after 2 days. Products such as ceramic grinding wheels, diamond saw blades, cubic boron nitride single crystals, diamond micro-powders, grinding wheel wheels, etc., high-end customizable and green low-carbon grinding products will become the trend. Part of the industry exhibitors grinding mills, booth number as shown below, welcome industry colleagues to visit and exchange!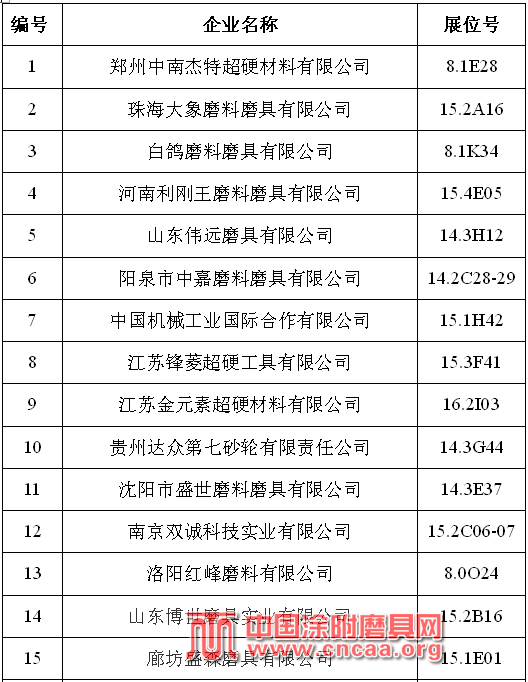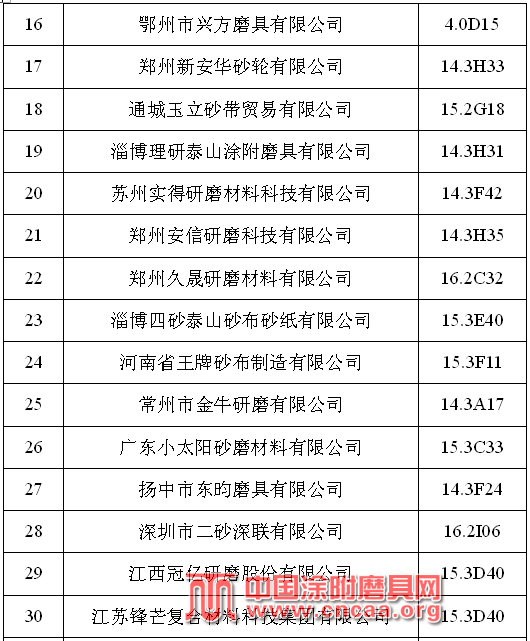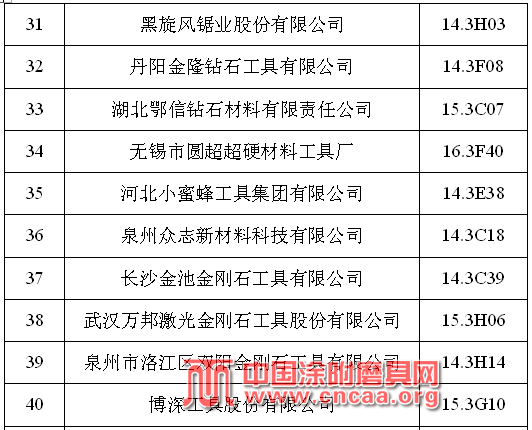 The data shows that the overall exhibition scale of the 123rd Canton Fair was the same as that of the previous session, with an exhibition area of ​​1.18 million square meters and 60,000 booths, which were exhibited in three phases. Among them, the first exhibition will be held from April 15th to 19th. The exhibitors will be electronic and home appliances, lighting, vehicles and accessories, machinery, hardware tools, building materials and chemical products. The second phase is scheduled from April 23 to 27, and the exhibiting items are daily consumer goods, gifts and home decorations. Ningbo has 636 booths and 264 exhibitors. The third phase is held from May 1st to May 5th. The exhibits are textiles and clothing, footwear, office, luggage and leisure products, medicine and medical care. Food and import exhibition area.

Traffic guidance

China Superhard Materials Network warm reminder, due to the implementation of traffic control during the Canton Fair, it is recommended that industry personnel go to and leave the Canton Fair pavilion, try to choose large-scale transportation such as subway, bus and hotel shuttle bus, reduce the taxi and self drive.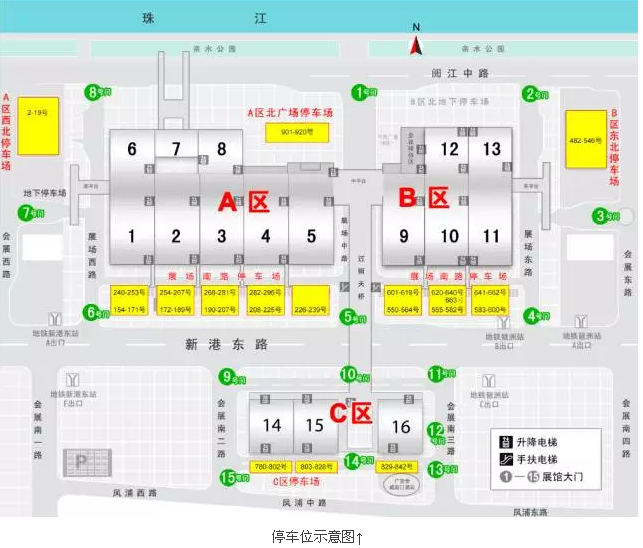 Bus

1. Open 2 temporary bus lines. The first is the "Canton Fair Exhibition Hall - Huanshi Middle Road", passing through Yuejiang East Road, Weizhou Bridge, Keyun Road, Zhongshan Road, Tianhe Road, Huanshi Road; Second, "Canton Fair Exhibition Hall - Liuhua Road", passing Xingang East Road, Yuejiang West Road, Liede Bridge, Huacheng Avenue, Jinsui Road, Guangzhou Avenue, Dongfeng Road, Jiefang North Road, Liuhua Road ps: Temporary special line will be set up in the temporary exhibition area of ​​the bus in the middle of the exhibition; the first 4 days of each period The opening time is from 15:00 to 19:00, and the last day of each period is from 13:00 to 17:00. 2. Increase the density of the bus routes passing through the Pazhou Complex. At present, the regular bus routes passing through the Canton Fair are: 229, 239, 262, 304, 461, 582, 763, University City 3, Tourism 1 Line, Travel Line 3, B7 Express, Peak Express 59. Peak Express Line 77 and so on.

Subway

1. Site: Xingang East Station of Metro Line 8 and Pazhou Station of Metro Line 8. 2. Transfer: West Line of Metro Line 8 can be transferred to Line 3 at the Kecun Station of the subway. You can change to Line 2 at the Changgang Station of the subway. The east line of the No. 8 subway line can be transferred to the subway at Wanshengwei Station. Line 4.

Airport Express Line

An airport special line from the Canton Fair Complex to Baiyun International Airport will continue to operate during the Canton Fair. The pick-up point for the airport line is at the junction of the exhibition center road and the exhibition area south road. The opening time is from 12:00 to 18:00 every day during the Canton Fair period (except during the renewal period), every 30 minutes. During the

taxi

exhibition, the taxi must drop off at the location designated by the Guangzhou Transportation Department. In this session of the Canton Fair, the Guangzhou Municipal Transportation Department will continue to set up temporary taxi pick-up and drop-off points in the South Road of the Exhibition Center and the C Hall. Considering the small number of exhibitors traveling late in the museum, the Guangzhou Municipal Transportation Department continued to organize some taxis to go to the above-mentioned locations for daily transportation during the daily closing time (17:30~18:30), which is convenient for merchants to travel.

The

self-driving people in the

parking lot

can fully use the existing parking lots in Pazhou Complex, surrounding hotels, office buildings and residential areas, and scientifically and rationally use the idle land parcels around the Pazhou Complex and set up temporary parking lots for the roads. 13514 parking berths. The Guangzhou Municipal Transportation Department reminded the public to pay attention to the parking guidance and parking guidance screens around the Canton Fair, and to make parking lots in advance.

Adding a train on the No. 8 subway line 1. Preparing the Canton Fair timetable

to better guide the Canton Fair's passenger flow. The MTRC compiled the Canton Fair timetable to upgrade the night peak capacity of Line 8 and increase the number of trains to run on the line during the non-Canton Fair. The interval is compressed for nearly 15 seconds and the transportation capacity is increased by 6%. At the same time, the MTRC will add up to 400,000 pre-made one-way tickets in advance, and increase the number of temporary ticketing points at any time according to the needs of passenger flow to provide passengers with fast ticket purchase services. 2. Conducting special consulting services In terms of passenger services, the MTRC will conduct special consulting services at two stations in Pazhou and Xingang East, and provide foreign language consulting services in five languages, including English, French, Japanese, Korean and Vietnamese. In addition, the Guangzhou Metro has recruited more than 300 student volunteers to participate in the Canton Fair service, providing guidance and consultation services for foreign businessmen. At Pazhou Station and Xingang East Station, the subway has also built an electronic help desk to provide convenient services such as electronic map inquiry and convenient charging. The MTR Corporation will set up a convenience raincoat at the entrances and exits of Pazhou Station and Xingang East Station. It will also add outdoor umbrellas and entrance and exit lighting.

Tungsten Trioxide,Blue Tungsten Trioxide Msds,Mercury Blue Tungsten Trioxide,Yellow Crystalline Powder

HUNAN ZHONGNAN ANTIMONY&TUNGSTEN TRADING CO.,LTD , https://www.znat.com.cn
January 16, 2021